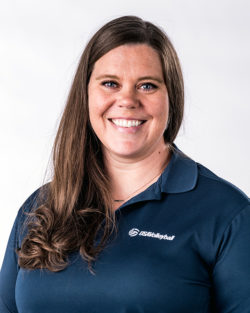 The Carolina Region is pleased to announce Callie Davis as our new Official's Program Director.  
Callie brings a lot of experience to the position.  She earned her USAV Junior National certification in 2019 and her USAV National certification in 2022.  In 2023 she received the USAV Sitting Endorsement to be eligible to work domestic sitting volleyball matches.  She has a State rating with P.A.V.O and currently is on the Referee cadre for eight Division 1 conferences.  She also has connections to High School volleyball where she helps assign for eight counties in NC.  Nationally, she has been an assignor with USA Volleyball at multiple Qualifiers and two Girls' Junior National Championships.
Callie's first day was August 1 and her initial focus will be connecting with officials during the High School and College seasons to publicize Carolina Region and USAV officiating opportunities.  She will also be working on clinic materials for the new season.  The Officials Program Director works alongside our Beach Referee Chair,  our Indoor Referee Chair, and our Scorer Chair to promote the officiating profession, recruit new officials to the sport, enhance the Region's Official's training opportunities before and during tournaments, and assign referees to Carolina Region one-day tournaments.  
Please welcome and say hello to our new Official's Program Director as you encounter her this season!