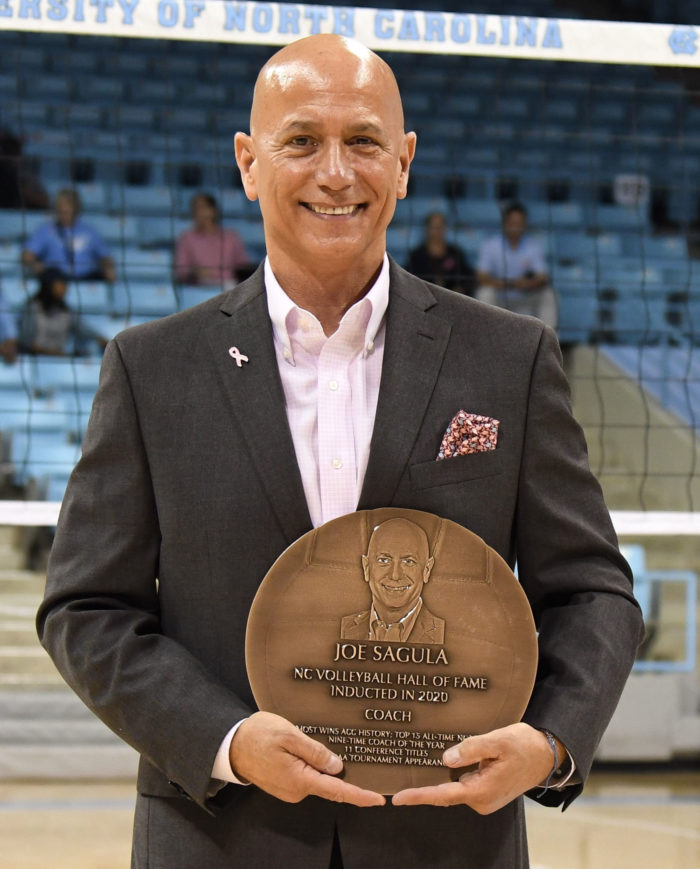 Clemmons, NC (April 1, 2020) – The Carolina Region has announced the official induction of Joe Sagula and the 2006 CJV-Slam 18's team into the North Carolina Hall of Fame.
Joe Sagula became the first Coach to be inducted into the NC Hall of Fame. In 2019, he completed his 30th season as Head Coach at the University of North Carolina and 39th overall as a coach. Coach Sagula has a record unmatched in North Carolina and was a unanimous choice to be inducted as the first Coach in the Hall. He has taken his teams to 14 NCAA tournament appearances. His teams have won 11 Conference titles. He is a 9-time Coach of the Year winner and is in the top 15 in all-time NCAA Division I victories.
Coach Sagula is officially being inducted with the 2020 Class, but he was presented with his honor towards the end of the 2019 collegiate season. The Hall felt honoring Coach Sagula during the UNC Alumni weekend matches would be a great way for his current and past teams to be present as he received his award. He was formally recognized before the October 27 Boston College match in front of UNC Administrators, fans, teams, and alumni. Carolina Region President, Jim Ross, presented his plaque to Coach Sagula.
CJV-Slam became the first team to be added to the NC Hall of Fame's Court of Honor. Teams that have achieved regional or national recognition for significant results are considered for this honor. CJV-Slam became the first Carolina Region junior team to win USA Volleyball National Championship by winning the 2006 18 National division at the USAV Junior National Championships in Atlanta, GA. The CJV-Slam team consisted of the following players and coaches: Head Coach, Jennifer Adeva; Assistant Coach, Rick Kiser; Players: Alexandra Marchyshyn; Sarah Cline; Ashlyn Morris; Kristina Gallahan; Noelle Dyk; Jessica Davis; Betsy Horowitz; Molly Hurst; Meredith Moorhead; and Lisa Morales.
Additional information on each of these inductees can be found at the NC Volleyball Hall of Fame page.