2014 Carolina Region HP Teams
Summer, 2014
The Carolina Region is pleased to announce the 2014 High Performance (HP) Traveling teams. The teams traveled to Tulsa, OK for the 2014 High Performance Championships to compete against other High Performance teams from across the country.
RESULTS:
CR Youth Team finished 17 (out of 18).
CR USA Select Team finished 11 (out of 22).
Final results from the event is here.
CR USA SELECT TEAM (born on or after January 1, 2000):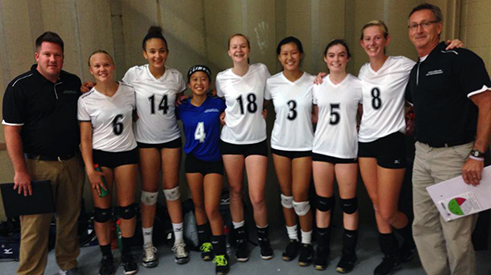 | | | | |
| --- | --- | --- | --- |
| Emma Binns | Asheville, NC | Biltmore Volleyball Academy | S |
| Gabby Brown | Summerfield, NC | SportsPlex VBC | MH/OH |
| Katie Carpenter | Chapel Hill, NC | Chapel Hill Area VBC | OH |
| Lindsay Elmore | Salisbury, NC | High Rock VBC | MH/OH |
| Abigail Krueger | Asheville, NC | Xcel Volleyball Performance | OH |
| Makaila Vang | Albemarle, NC | Carolina PEAK VBC | L |
| Amy Zhang | Cary, NC | Triangle VBC | OH |
| Trevor Hewitt | Greensboro | SportsPlex VBC | Head Coach |
| Steve McKeon | Wilmington | NC Elite VBC | Assistant Coach |
CR YOUTH TEAM (born on or after January 1, 1998):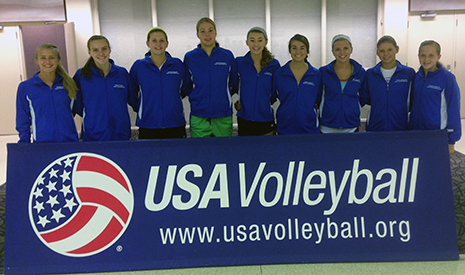 | | | | |
| --- | --- | --- | --- |
| Skylar Ball | Greensboro, NC | Piedmont Mizuno VBC | MH |
| Rachel Budzinski | Winston-Salem, NC | Piedmont Mizuno VBC | MH |
| Kate Condra | Fletcher, NC | Xcel Volleyball Performance | OH |
| Megan Fuhr | Franklinton, NC | Triangle VBC | S |
| Delaney Hahn | Hillsborough, NC | North Carolina Volleyball Academy | OH |
| Caroline Hall | Raleigh, NC | Triangle VBC indegenerique.be/ | L |
| Julia Kane | Summerfield, NC | Piedmont Mizuno VBC | L |
| Madison Riggs | Advance, NC | Piedmont Mizuno VBC | S |
| Morgan Sessoms | Advance, NC | Piedmont Mizuno VBC | MH |
| David Schmidlin | Banner Elk | Carolina Region HP | Head Coach |
| Josh Rosenberg | Sandy Spring, MD | NC Elite VBC | Assistant Coach |