2002 HP Travel Teams
Summer, 2002
The Carolina Region is pleased to announce it's 2002 High Performance (HP) Program for Junior Girls.
WHAT: The Carolina Region High Performance Teams are geared towards Elite Volleyball Development through specialized training and Elite Competition.
WHO: Two teams have been selected: an 18 and under Travel Team (Juniors) and a 16 and under Travel Team (Youth). See below for teams.
WHEN: HP Clinics were held May 4, 11, and 18. Players were invited for a High Performance Camp July 8-12 for training and competition. The final Travel teams were selected at the end of the Camp and the two teams traveled to Salt Lake City to compete in the 2002 Park City VolleyClassic (July 22-28).
COACHES: Juniors Head - Casey Caram; Youth Head - Craig Lenniger; Youth Assistant - Ashley Powers; Juniors Apprentice - Hal Clifton; Youth Apprentice - Rory Kelly.
RESULTS: Both teams competed extremely well in Salt Lake City! The teams won the first games and matches ever for the Carolina Region against other Region's High Performance teams (both teams brough home match victories!). And we were on the verge of breaking through...the Junior team lost two five-game matches during the tournament (one to the defending Champion Florida team). The Youth team lost one five-game match as well. The Region is just at the crest towards much greater success and we look forward to continuing our progress in future years. Great job, ladies! Go here for some pictures from the trip.
2002 HIGH PERFORMANCE TEAMS
YOUTH TEAM: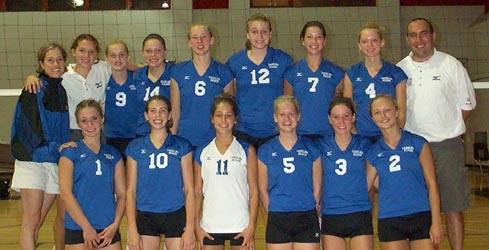 | PLAYER | NUMBER | HOME TOWN | CLUB TEAM | POSITION |
| --- | --- | --- | --- | --- |
| Kristin Andrejco | #2 | Greensboro | PVC-Mizuno 16 | S |
| Bekah Brinkley | #14 | Asheville | Biltmore 18 | OH |
| Mary Buechler | #4 | Chapel Hill | Durham Lady Panthers | OH |
| Julia Fiore | #5 | Durham | NC Challengers 16 | OH |
| Margaret Froneberger | #9 | Fayetteville | FAVA Storm | OH |
| Christa Fulenwider | #12 | Raleigh | CCVC-Beasts | MB |
| Ashley Gwaltney | #3 | Greenville | ECJVC-Lightning | S |
| Sarah Knoedler | #7 | Raleigh | NC Challengers 16 | OH |
| Gabrielle McKinley | #11 | Asheville | WNC 15's National | S |
| Lisa Morales | #10 | Charlotte | CJV-14 Knockouts | OH |
| Julie Pickard | #1 | Hillsborough | NC Challengers 16 | OH |
| Cindy Vandervoort | #6 | Winterville | ECJVC-Lightning | MB |
JUNIOR TEAM: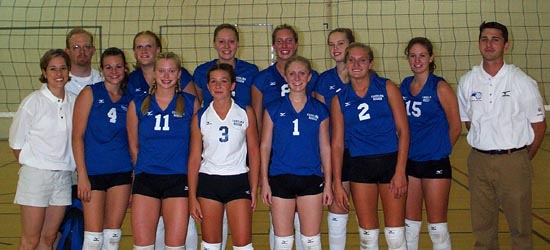 | PLAYER | NUMBER | HOME TOWN | CLUB TEAM | POSITION |
| --- | --- | --- | --- | --- |
| Amanda Bradford | #11 | Chapel Hill | PVC-Mizuno 18 | OH |
| Melissa DeLuca | #2 | Bahama | Knights-Fearless Knights | OH |
| Sarah Dillon | #15 | Morrisville | NC Challengers 16 | S |
| Ellie Exner | #1 | Durham | NC Challengers 17 | L |
| Kathryn Phillips | #8 | Lexington | DCVA Dragons | MB |
| Lauren Powers | #12 | Fayetteville | FAVA Lightning | MB |
| Kendra Quigg | #13 | Raleigh | Pulse | MB |
| Nicole Scheidt | #4 | China Grove | CJV-17 Stunners | S |
| Tabitha Turner | #14 | Raleigh | NC Challengers 17 | OH |
| Lorean Yates | #3 | Durham | Hitmen | L |