2010 Meritorious Service Honorees
Each year, USA Volleyball presents Meritorious Service Awards to individuals and/or groups that provide outstanding contributions to the sport of volleyball across the country. Each Region is allowed to nominate and select up to five individuals or groups for this recognition each year. The Carolina Region is pleased to announce the following individuals as recipients of 2010 Robert L. Lindsay Meritorious Service Awards. All award recipients will be recognized in the 2011 USA Volleyball Guidebook. A listing of all previous winners of Carolina Region Meritorious Service Awards can be found here.
2010 HONOREES: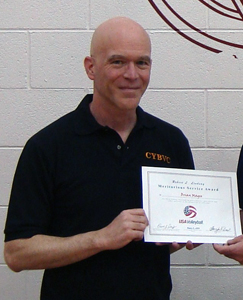 Brian Magee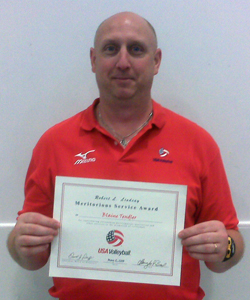 Blaine Tendler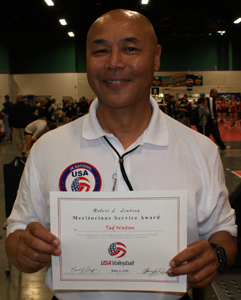 Tad Watson
* Michael Hodge - Michael is the founder of Jammers Volleyball Club. He has been a player and coach in the Region for many years, and has worked to improve the level of play in the Durham/Chapel Hill area.
* Brian Magee - Brian is the founder of the Cary YMCA Boys' Volleyball Club. He is a former Boys Player Rep to the Carolina Region Board of Directors. Even though his sons have aged out of Boys' play, he is still running the Cary YMCA Boys club and has tirelessly promoted the boys' game in North Carolina.
* Blaine Tendler - Blaine has been involved with the Carolina Region High Performance Program for many years. He also coaches with the USA Volleyball HP Program. He is the club director for Piedmont Volleyball Club. Blaine has done a lot to raise the level of volleyball in North Carolina. Blaine was also honored with the 2010 Junior Olympic Outstanding Clinician Award by the Youth and Junior Volleyball Division of USA Volleyball during the Annual Meetings in Phoenix.
* Tad Watson - Tad is a Junior National Official that has worked in the Region for many years as an official, clinician, and rater. He recently served as Treasurer of the Mid-Atlantic Volleyball Officials Board and was recognized by the PAVO for outstanding service to that organization.
The Carolina Region would like to thank each of these individuals for their continued support of volleyball in North Carolina! Without people like these, the Carolina Region would not be where it is today. If you have a chance to meet these honorees or any previous year's winners, please thank them for their many contributions!
If you would like to nominate someone for a 2011 Meritorious Service Award, please contact the Region Office page. Any person or group that works to promote volleyball in some way is eligible.