2012 Meritorious Service Award Honorees
Each year, USA Volleyball presents Meritorious Service Awards to individuals and/or groups that provide outstanding contributions to the sport of volleyball across the country. Each Region is allowed to nominate and select up to five individuals or groups for this recognition each year. The Carolina Region is pleased to announce the following individuals as recipients of 2012 Robert L. Lindsay Meritorious Service Awards. All award recipients will be recognized in the 2013 USA Volleyball Guidebook. A listing of all previous winners of Carolina Region Meritorious Service Awards can be found here.
2012 HONOREES: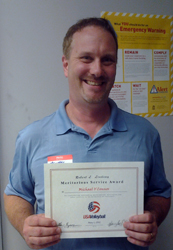 Michael O'Connor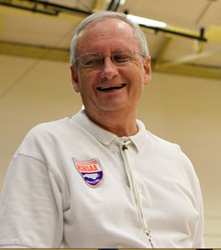 William "Bill" Sherrill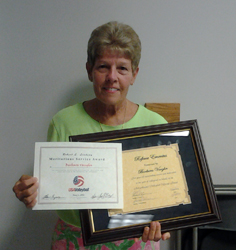 Barbara Vaughn
* Michael O'Connor - Michael is the current President of the Mid-Atlantic Volleyball Officials Board.  He served as Officials Rep to the Carolina Region Board of Directors in 2009 and 2010.  He holds a National Rating with USA Volleyball and has served on the National Ratings Team.  Michael has served tirelessly to mentor and train volleyball officials all over the country.
* William Sherril (posthumous) - William "Bill" Sherrill served as a High School and USAV Official for many years.  He was a Regional Referee with the Carolina Region and was in the pipeline to go for his Junior National Rating.  Sadly, he passed away on February 29, 2012, shortly after working a Carolina Region Juniors tournament.  His friendly attitude and smile will be missed!
* Barbara Vaughn- Barbara has dedicated over 40 years to the sport of volleyball.  She began officiating College volleyball in 1971 and worked through 2011.  She was able to work numerous conference and NCAA Championship tournaments over the course of her career.  She has served as a mentor and friend to countless volleyball officials across the country. 
The Carolina Region would like to thank each of these individuals for their continued support of volleyball in North Carolina! Without people like these, the Carolina Region would not be where it is today. If you have a chance to meet these honorees or any previous year's winners, please thank them for their many contributions!
If you would like to nominate someone for a 2013 Meritorious Service Award, please contact the Region Office. Any person or group that works to promote volleyball in some way is eligible.