2023 Meritorious Service Award Winners
Each year, USA Volleyball presents Meritorious Service Awards to individuals and/or groups that provide outstanding contributions to the sport of volleyball across the country. Each Region is allowed to nominate and select up to five individuals or groups for this recognition each year. The Carolina Region is pleased to announce the following individuals as recipients of 2023 Robert L. Lindsay Meritorious Service Awards. All award recipients will be recognized at the  USA Volleyball website as well. A listing of all previous winners of Carolina Region Meritorious Service Awards can be found here.
2023 HONOREES: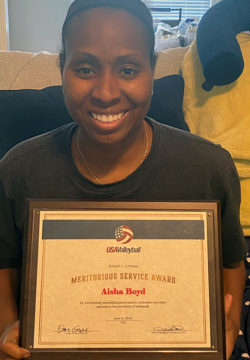 Aisha Boyd
Aisha Boyd – Aisha has been a player and referee in the Carolina Region.  She earned her Junior National Referee certification in 2015.   She was honored with the Bronze Whistle award by USAV in 2016 as the top Junior National Referee in her class.    Aisha earned her National Referee certification in 2018.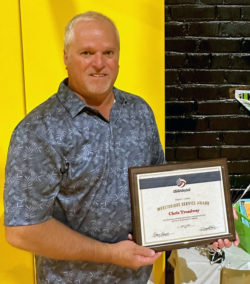 Chris Treadway
Chris Treadway – Chris is the Club Director for Burke Elite Volleyball Club.  He has been a coach, administrator, and tournament director in the region for many years.  He served as the Youth & Junior Girls West Rep to the Carolina Region Board of Directors from 2019-2022.
The Carolina Region would like to thank each of these individuals for their continued support of volleyball in North Carolina! Without people like these, the Carolina Region would not be where it is today. If you have a chance to meet these honorees or any previous year's winners, please thank them for their many contributions.
If you would like to nominate someone for a 2024 Meritorious Service Award, please contact the Region Office. Any person that works to promote volleyball in North Carolina in some way is eligible.