2014 Meritorious Service Award Honorees
Each year, USA Volleyball presents Meritorious Service Awards to individuals and/or groups that provide outstanding contributions to the sport of volleyball across the country. Each Region is allowed to nominate and select up to five individuals or groups for this recognition each year. The Carolina Region is pleased to announce the following individuals as recipients of 2014 Robert L. Lindsay Meritorious Service Awards. All award recipients will be recognized in the 2015 USA Volleyball Guidebook. A listing of all previous winners of Carolina Region Meritorious Service Awards can be found here.
2014 HONOREES: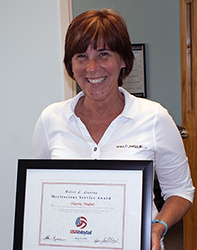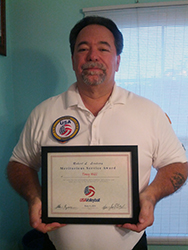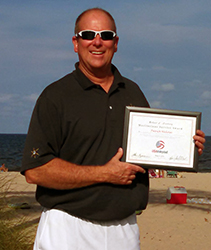 Sherry Fadool                                       Tony Hill                                          Patrick Nicholas
* Sherry Fadool – Sherry is the current Executive Director of Triangle Volleyball Club (Morrisville).  She was instrumental in developing and promoting the Mid-Atlantic Power League.  She also helped bring the first Convention Center tournament to the Carolina Region - MAPL Raleigh - and her tireless efforts during that annual event have made it a success.  Triangle VBC has used MAPL Raleigh to promote various causes and themes to raise awareness among the attending teams.  Green Initiatives and Sitting Volleyball are just two of the themes Triangle has supported.  Sherry is an active participant in the Carolina Region Junior Advisory Board and is always willing to lend her support to the Region.
* Tony Hill – Tony is a USA Volleyball National Referee and Scorer.  He serves as an Official's Clinician and Rater and has worked hard to share his passion for officiating with players and new officials.  Tony works throughout the Carolina Region and the East Coast during the USA Volleyball season!
* Patrick Nicholas – Patrick worked in the Carolina Region High Performance Program the past three seasons.  He gave held many clinics and tryouts each season and served as the Head Coach to HP Teams traveling to the USA Volleyball HP Championships.  In 2013, he Coaches the CR Youth team to a 3rd place finish at the HP Championships, the highest finish for a Carolina Region team in that event.  Patrick has moved out of the Carolina Region now for other Volleyball opportunities, but the Region appreciates his support to improving the playing  level in the Region.
The Carolina Region would like to thank each of these individuals for their continued support of volleyball in North Carolina! Without people like these, the Carolina Region would not be where it is today. If you have a chance to meet these honorees or any previous year's winners, please thank them for their many contributions!
If you would like to nominate someone for a 2015 Meritorious Service Award, please contact the Region Office. Any person or group that works to promote volleyball in North Carolina in some way is eligible.