This page will list opportunities that the Region is aware of for Adult players and Teams to play in North Carolina.  If you know of additional league, pickup, or tournament opportunities for adults anywhere in North Carolina, please send the details to the Carolina Region Office.
2019 Adult Beach Championships in Fort Lauderdale, FL – Sept 29-30, 2018.  Click banner for more information.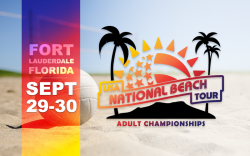 2019 USA Volleyball Open National Championships – May 24-29, 2019 – Columbus, OH.   Click here for more information and to register.  Adult Team Registration form will be linked here after Sept 1 (required to enter USAV Open).