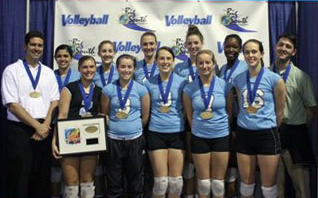 Inducted in 2022
Second Junior Team inducted into NC Volleyball Hall of Fame Court of Honor
Won 18 Open Division at the 2006 Big South Qualifier in Atlanta, GA
Finished 15th out 28 teams at the 2006 USA Volleyball Junior National Championships in Atlanta, GA.
Teams Roster: Nicole Boyle; Katie Camp; Tara Enzweiler; Christina Falcone; Katie Flaherty; Megan Hodge; Brittany Horner; Katie Kabbes; Virginia Phillips; Sara Uniacke; Head Coach Casey Caram; and Assistant Coach Jason Curtis.
Go here to view the 2022 Announcement Press Release.
Pictures from 2022 Team Reunion and Plaque presentation: