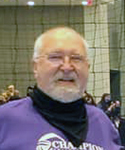 CHUCK MORRIS
Secretary
Chuck's involvement with the Carolina Region spans over three decades. He has seen many changes in the game and is learning to adapt to all those changes.
Chuck started Rockingham County Men's Volleyball Club in 1983 as a player/coach. He joined Triad Volleyball Club (Eventually morphed in to Set Point Volleyball Club) in 1985 and coached there for 19 wonderful years. He left Set Point in 2015 thinking his coaching career had ended, but alas that was not the case. One of Set Points players was a student at Mt Airy High School, and she talked him in to taking over as the Head Coach at Mt Airy. Mt Airy only had one feeder Middle School, so he started Granite City Volleyball Club to help bring along players who would eventually end up at Mt Airy. Six years later, he resigned from Mt Airy and Granite City and once again thought his coaching career had ended. After sitting out the next USAV season, he was approached to take up coaching again and have thoroughly enjoyed the last four seasons of coaching. 
Over that 3+ decades in the Carolina Region, he have been officiating the game at multiple levels. He has officiated in High School, USAV and NCAA (with a short stint in the ACC). He is currently a Referee and Scoring Clinician for the Region and runs several Tournaments each season.