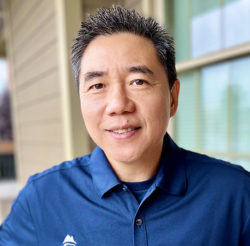 BRUCE CAO
Youth & Junior Girl's Rep
Bruce Cao joined the Carolina Region Volleyball Board of Directors in September, 2023 as the Youth and Junior Girl's Rep, with a passion for volleyball and a mission-driven purpose to serve. Bruce is a volleyball enthusiast and has competed at both the high school and collegiate levels. In 2003, he took on the role of coaching boys' volleyball in the Chesapeake Region (Maryland/Virginia). This experience not only honed his coaching skills but also provided valuable insights into the nuances of the sport and its impact on our youth. In 2005, Bruce and his family relocated to North Carolina, and he returned to the coaching arena in 2009. Over the years, he has coached and trained boys' and girls' volleyball athletes across various skill levels, giving him a comprehensive understanding of the diverse needs and aspirations of players within the Carolina Region.
Professionally, Bruce stepped away from corporate leadership roles in the pharmaceutical industry in 2014. He established a successful consulting firm and currently serves as a board member of a startup medical company. From 2019 to the present, Bruce has been working for a global nonprofit organization, where his primary responsibility is the management of a drug technology portfolio (both technical and fiscal) funded by the US Agency for International Development (USAID) and the Bill & Melinda Gates Foundation. Bruce is also a guest lecturer at the University of North Carolina, Chapel Hill School of Pharmacy.
At home, Bruce is happily married to Karen Cao and takes great pride in being the parent of three wonderful children: Daniel, Evan, and Ashley Cao.